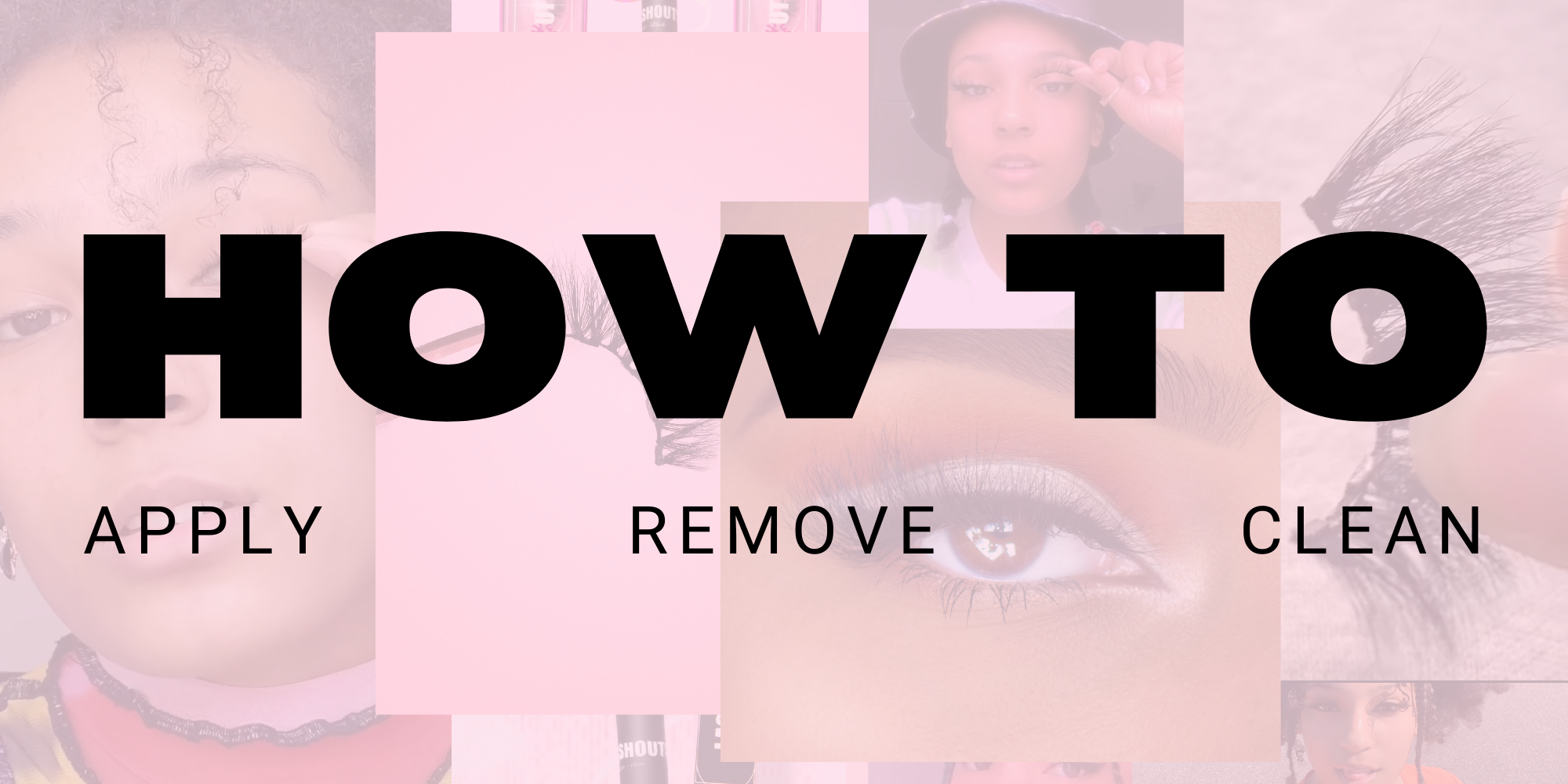 PÅFØRINGEN AF VIPPER & EYELINER 
TRIN 1 
Påfør den magnetiske eyeliner fra dit indre hjørne af øjer til dit ydre hjørne, og hvis du har lyst, kan du tilføje en lille vinge til det. 
Gør stregen lige så tyk som magneterne på vippen. 
TRIN 2 
Vent 20 sekunder eller til at lineren er 80% tør og magnetiser derefter de magnetiske vipper til lineren. Når vipperne kommer i kontakt med lineren, tages der forsigtigt fat i vipperne nær roden og trykker dem sammen mod lineren for at sikre a den forbliver på sin plads.  
TRIN 3 *valgfrit, men anbefales * 
Placer de medfølgende vippeanker under dine naturlige vipper og magnetiser dem til de magnetiske vipper. Dette giver vipperne bedre holdbarhed hele og sørger for, at vipperne ikke popper op i hjørnerne. 
AFTAGELSE AF VIPPER & EYELINER 
TRIN 1 
Hvis du har vippeanker på, fjernes de inden øjenvipperne.  
TRIN 2 
Tag fat i vippen fra den ene ende og træk forsigtigt ud. På denne måde vil den let komme af. 
TRIN 3 
Fjern eyeliner med oliebaseret makeupfjerner eller brug Lashouts make-up fjernende vatpinde. (At skrubbe det af i varmt vand virker også;)) 
Skrab forsigtigt det overskydende eyeliner af magneterne med din negl eller lign. Rengør dem derefter med en vatpind eller en vådserviet. 
Husk at lægge dem tilbage i den magnetiske æske som du modtog dem i efter hvert brug, for at holde dem i så god form som muligt. 
SKYLD IKKE VIPPERNE I VAND, DA DE KAN MISTE DERES KRØL OG FORM AF DET 
TIP#1 
Når du påfører eyelineren, skal du prøve at lægge din lillefinger på din kind og bruge din tommelfinger og pegefinger til at styre eyelineren med for bedre kontrol. 
TIP#2 
Påfør vippen ovenfra og ned, for nemmere at få en perfekt applikation. 
--------------------------------- 
Vi har lavet en masse videoer inde på vores TikTok @lashouts.co omkring hvordan man gør forskellige ting. Derudover er du altid velkommen til at kontakte os! 
APPLYING MAGNETIC LASHES & LINER 
STEP 1 
Apply the magnetic liner from your inner corner to your outer corner and if you feel like it, add a little wing to it.  
Make the line as thick as the magnets on the lash. 
STEP 2 
When it's 80% dry, magnetize the magnetic lashes to the liner. Once the lashes made contact with the liner, gently grab the lashes near the root and press into place to ensure it stays.  
STEP 3 *optional but recommended* 
Place the included lash anchors, under your natural lashes and magnetize it to the magnetic lashes. This gives you better hold throughout the day and makes sure that the lashes doesn't pop up at in the corners. 
REMOVING MAGNETIC LASHES & LINER 
STEP 1 
If wearing any lash anchors, make sure to remove them before removing the eyelashes.  
STEP 2 
Grab the lash from one end and carefully pull out. This way it will easily come off.  
STEP 3 
Remove the eyeliner with oil-based makeup remover or use Lashouts make-up removing swabs. (scrubbing it off in hot water also works;)) 
Carefully scrap off the excess liner on the magnets with your nail og anything alike. Afterwards clean them with a Q-tip or a wet wipe.  
Remember to put them back in the magnetic tray they came in after every use, to keep them in as good as possible shape and form.  
DO NOT WET THE LASHES, AS THEY CAN LOOSE THEIR CURL AND FORM. 
TIP#1  
When applying eyeliner, try putting your pinky on your cheek and use your thumb and index finger to control the eyeliner with.  
TIP#2 
Applying the lash from above and down, makes it easier to get the perfect application. 
--------------------------------- 
We've made a lot of videos on TikTok @lashouts.co on how to do the different thing. Other than that you're always welcome to contact os!